Features
Accounts
Loyalty Account
Loyalty Account

A unique account, with a loyalty program to earn points by simply using Reflect!

Earning
Earn points on the go with Reflect! Spin the wheel, pay using your card, use Reflect QR, unlock new features and a lot more.

Redeeming
Convert your points into cash, or use them to unlock more features!

Tracking
Keep track of all points earned, and redeemed at all times.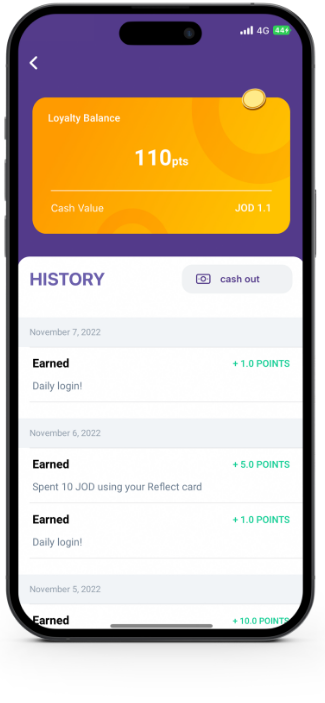 How to earn points?
Earning Reflect points has never been easier, you can earn points by just logging into the application, unlocking new features, conducting transactions and spinning the wheel!
Points on the go
Action
Point(s)
Max. Points
Daily Login
1
1 point / day
Friend Referral
100
500 points / year
Send Money
1
6 transactions / month
Bill Payment
5
1 transaction / month
Reach Saving Space
3
1 time / year
Your birthday
1
1 point / year
One Time Bonuses
Action
Point(s)
Register to Reflect
1
Open Wallet Account
5
Opening a Saving Space
1
First transfer to your saving space
5
Request your first payment
5
Top Up
Action
Point(s)
Max. Points
Top Up (10-200 JOD)
5
10 top ups / month
Top Up (200-500 JOD)
10
5 top-ups / month
Top Up (500-1K JOD)
25
2 top-ups / month
Top Up (+1K JOD)
50
1 top-ups / month
Payments
Action
Point(s)
Max. Points
Debit Card Transactions – (Virtual & Physical) – Spend 10 JOD or above
1%
300 points / month
QR Payment – Spend 10 JOD
5
40 transactions / month
QR Payment – Spend 25 JOD
25
8 transactions / month
QR Payment – Spend 50 JOD
50
4 transactions / month