Features
Financial Services
Pay Later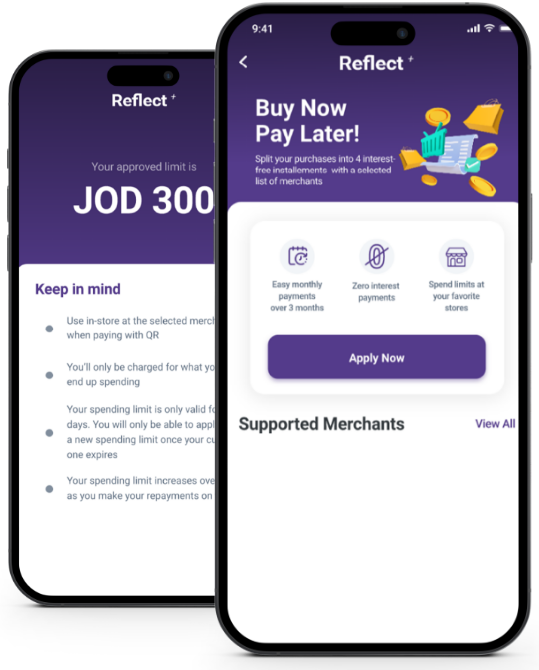 Pay Later
Pay Later is a "Buy Now Pay Later" service, allowing you to obtain a credit limit up to 1,000 JOD and pay back in 4-simple interest free installments at selected merchants.
What makes you eligible?
✓ Must be between 18-65 years old.
✓ Must have an average balance of JOD 50 or more over the past 30-days.
How to apply for "Pay Later" limit?
You can apply to a "Buy Now Pay Later" limit by choosing "Pay Later" icon from the homepage.
Tap on "Apply now" to check the limit you are eligible to issue.
Once you confirm the limit and receive approval on it, you will be notified by an email and a push notification.
How to make a purchase using "Pay Later"?
Visit any of the merchants (link to merchants list) that support "Pay Later" on Reflect.
To make a purchase you either choose the "Pay in-store" button, or to pay using Reflect QR.
If you choose to pay with Reflect QR; After scanning the QR code from the merchant's POS, you will see two payment options (Pay with Reflect Wallet or Pay Later)
Confirm the amount and payment option.
Terms & Conditions:
User must have an average balance of JOD 50 or more over the past 30-days.
A fee of 1% of the granted limit value will be deducted, with a maximum of 3 JOD.
An interest of 1% will be charged (for the unpaid installment) for each day the user is late until the user pays the full amount due.
A 25% down payment is debited directly from the account on the day of purchase, and the remaining payments are due every 30 days.
Users could use the limit on multiple purchases within the 30 days period.
Users could complete their payments and then re-use the limit within 30 days.For the first payment users are given 2 days of grace period (collection process will be shifted 2 days).
Late payment fees:
After 1 day, All debit transactions are frozen and late fees will apply on a daily basis.
Late fees are JOD 5 for every late payment
On every late day, interest applies on the closing balance.
After 3 days of late payment, all balance in saving space will be debited.
After 7 days of late payment, all balance in loyalty points will be debited.
To view all terms & conditions for "Pay Later" service, tap here