What are Neobanks? How are Neobanks redefining the future of banking?

What are Neobanks?
Neobanks are innovative and agile institutions that operate entirely online without brick-and-mortar branches.
They have been gaining popularity in the FinTech industry as they continue to provide customers with easy digital financial solutions on the go. Despite the global economic slowdown, neobanks have actually raised more than $12 Billion in 2021 alone.
Neobanks continue to grow in market cap and number of users served around the world. According to Bloomberg reports, the number of neobank users is expected to reach 50 million by 2028.
As of February 2022, there are more than 250 neobanks all over the world. Almost every one of them is focusing and targeting niche customers. One cannot help but wonder - What is the rationale behind the unprecedented growth of neobanks?
Simply put, digital-only banks challenge the traditional banks crippled with outdated infrastructure and legal systems with more customer-centric and transparent banking experience.
How are Neobanks different from traditional bank?
In traditional banking we would be taking into account nearby ATMs, clients in queues, appointments and some heavy paperwork.
NeoBanks- to the rescue- leverages emerging technologies like artificial intelligence (AI) to offer more personalised services and seamless customer experience through adapting customer-centric solutions.
The key goal of Neobanks is to offer a new level of seamless customer experience that no conventional bank could ever offer. Neobanks also save significantly on operating costs thus allowing them to reduce fees and offer more personalised services.
Whether it's payment at a coffee shop or budgeting and organising finances, Neobanks are perfect for individuals who want to do their banking from their phone and avoid the hassle of standing in line at banks or offices.
Why are Neobanks gaining popularity?
Convenience
You can open a digital account without visiting the branch. No matter wherever you are, you can transfer money, check your account balance, issue a debit card, or pay your bills with your mobile phone. Neobanks specifically design their systems to be optimised for use on the go to ensure their customers have an enjoyable and convenient user experience.
Digital Features
In today's world, tech-savvy customers are demanding reliable and digital solutions to simplify their banking needs. With Reflect, customers can enjoy many features with a smooth user experience and superb usability.
Cost Savings
Neobanks operate entirely branchless, which allows them to save significantly on operating costs. Therefore, customers can avail almost free of charge services, like opening an account with zero fees and zero commitments. Neobanks also have the capability to offer perks and packages with different scopes of services according to customer's interests and lifestyle.
Speed
Neobanks don't face impediments such as outdated infrastructure and legal systems which are generally the challenges of traditional banks. Instead, neobanks offer smooth and fast digital services to customers. What's more, they don't require any paper-based documents and set up everything for customers in a matter of minutes.
Reflect: The First Neobank in Jordan
What is Reflect?
Launched into the market in September 2021, Reflect is the first Neobank in Jordan and it's powered by Arab bank. This digital-only bank is agile, innovative, and built around offering millennials smart and seamless digital banking solutions that meet their digital-savvy lifestyle.
Reflect allows you to handle everything from monitoring your spending and savings all the way to paying friends and family on the go (all through your Reflect account!). Apart from managing your day-to-day finances, Reflect helps you to understand and organise your money, thus leading to better financial decisions.
How can I open an account with Reflect?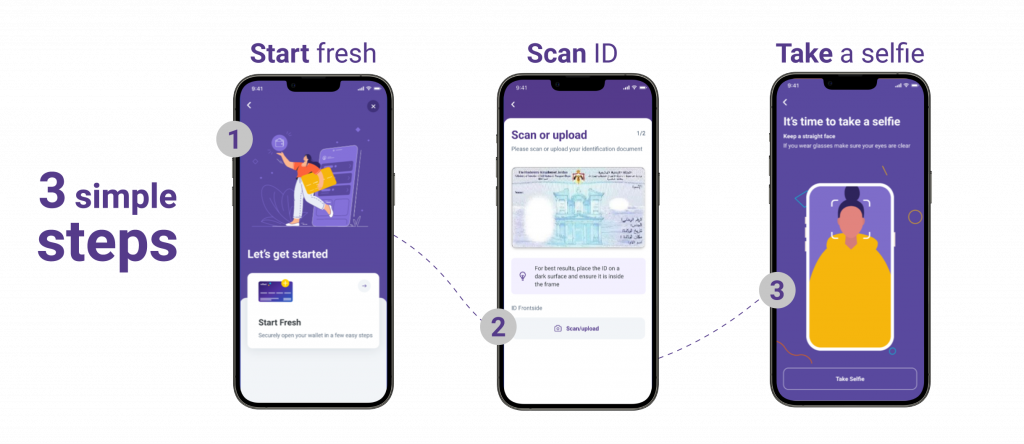 As a digital-only bank, Reflect doesn't operate any physical branches. Instead, all of your banking needs are managed entirely through Reflect mobile app (available both on iOS and Android).
Opening an account with Reflect is pretty easy. You just download the app and enter your mobile number and take a selfie to verify your identity. Now you can start enjoying banking like never before.
What other features does Reflect offer?
Reflect Physical Card: A card with full digital capabilities allowing you to order, activate and manage the card all through your Reflect App.
QR Payments: Scan, pay and earn discounts across the network of Arabi Mobicash of +600 merchants.
Cashback and Rewards: Get instant cashback and redeem points on your spending through Reflect.
Instant spending notifications: We notify you each time you make a transaction on your Reflect card.
Make payments with ease: Reflect makes it super easy to pay and accept money within seconds using just a mobile number. Also, you can pay all your bills directly within the app with just a click of a button
Split bills effortlessly: If you're fed up with exchanging bank accounts and IBANS, Reflect helps you to split bills with your friends and family. And in just a few taps.
Withdraw and deposit cash: Reflect also allows you to withdraw and deposit cash daily using the contactless feature available on Arab Bank ATMs.
Set money aside for a rainy day: Saving Spaces Feature on Reflect takes the hassle out of saving. You can automate your savings for multiple goals and track your progress.
Amazing Customer Support: Count on us on our WhatsApp chat support, our customer service is far from bots messaging or autopilot Q&As.
Reflect is your lifestyle Neobank that offers a personalized, convenient banking experience.
Get access to Reflect experience and benefits by opening an account with today!